By Don Stone – KennesawStateSports.com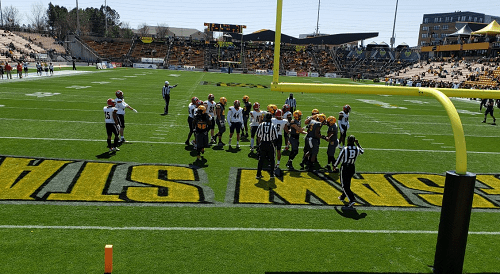 There seems to be a pattern developing here. In each of their three games this season, Kennesaw State falls behind early as the opponent scores on their first drive. The Owls then score their first points either in the second quarter or late in the first quarter and continue rattling off a string of unanswered points (27 in this case).

     Then KSU lets the opponent mount a comeback and get back in the game. Here, Dixie State got it back to within ten, where it stayed.

   In all three games, it was a second and third quarters that defined the games.

    The 37-27 victory matched Kennesaw State's best start in their six year history going back to when they came out of the gate in 2015 with three opening wins before falling by four to Dayton.

     But, the trend of falling behind early may have to change as things get more difficult from here.

   They head to Boiling Spring, NC to take on Gardner-Webb. The Runnin' Bulldogs are also undefeated having beaten Elon and Presbyterian College (in OT) before having their game on Saturday with Monmouth postponed due to a COVID-19.

     Just as the Owls swept last week's Big South Conference awards, GWU did the same the week before with running back Narii Gaither named Offensive Player of the Week for the second week in a row. Teammate LB Honus Wagner (his parents had a sense of humor) was Defensive Player of the Week and punt returner Jack Pawloski got Special Teams honors. DE Ty French also picked up Freshman of the Week for the second straight time.

     They are 2-0 despite having to sit 18 players against the Blue Hose due to contact tracing….their best start in 15 years.

     Also looming is a rematch with Monmouth, the only team that has beaten KSU in the last 17 conference games.

     Kickoff for GWU is Saturday at 1:00 p.m.