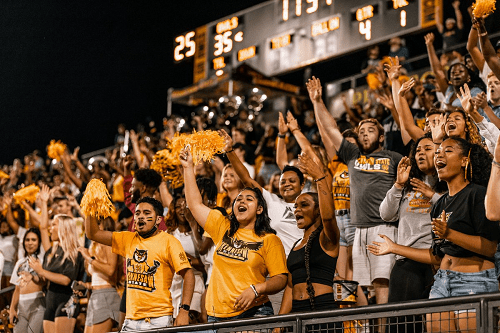 This game was a hard one to figure out. Both teams came in winless. For the Owls, it was the first time they had lost their first two in program history. For Wofford, they had been shutout in two of their three losses.
   But, the Terriers had no problem moving the ball as they clicked immediately with an opening 47 yard bomb to Rickie Shaw to the KSU35. Another Jimmy Weirick pass up the middle for 16 yards to RJ Khayo set them up for Nathan Walker to carry it over the goal line for a quick 4 play 1:19 drive and a 6-0 lead. The extra point bounced off the goal post.
  Weirick wound up with 358 passing yards. Landon Parker had six catches for 166 yards.
   The Owls came back and built up a 24-9 lead with quarterback Jonathan Murphy, in his first start of the season, rushing for 138 yards and two scores into the fourth quarter.
   But the defense almost blew it letting Wofford get back in it with thirteen unanswered points to make it 24-22.
  This is a different Owl football team than in previous seasons. Past teams would have put a struggling team like Wofford away early and run away with it. Not this time.
And, typically, when they got the ball with the lead late in the game, they chewed up yards and clock with their "death march" leaving the opponent helpless to do anything on offense.
   This time, KSU began their final drive at their 31 but could only make it to their 48 before having to punt giving Wofford the ball on their 18 with 1:35 left.
   The Terriers almost pulled it out with multiple completions making it as far as the KSU43 before a Joel Parker sack ended the game 24-22.
  The Owls are 4-0 all time against Wofford. The win was their 12th in a row at Fifth Third Bank Stadium.
    Things don't get any easier as Kennesaw State heads back on the road to Jacksonville State, who is 4-1 and coming off a convincing 52-21 win at Nicholls.
   The Owls are 3-0 in their history with the Gamecocks. But, this is a different Owls team. It will be their first ASUN Conference matchup since moving from the Big South this season.
   Gametime on Saturday, October 1 is 2:00 p.m. on ESPN+.