By Don Stone, KennesawStateSports.com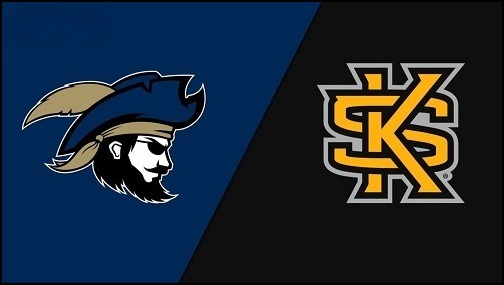 In the early days of Kennesaw State football, one of the Owls' biggest rivals was Charleston Southern. The Buccaneers won the first two meetings. But, since, KSU has won the last five, including a 30-20 game on a cloudy day Saturday at Fifth Third Bank Stadium.

  From the beginning, Kennesaw State took charge jumping out to a 10-0 lead after being held to just a field goal in the first quarter including another missed field goal. The only points the Bucs could muster was on a 25 yard pick six by Jeremiah McClendon with 1:05 left in first half.
   Along the way, Markeith Montgomery set the school record for career interceptions. Another record setting performance was by Gabriel Benyard with 117 punt return yards, also the most in team history.

   In reality, CSU is a shadow of what they used to be with just one win in seven tries this season. They were inconsistent throughout the game as they have been all year, held to just 76 yards rushing.

  Starting quarterback Tony Bartalo had a fumble and an interception before being replaced by redshirt freshman Deymon Fleming in the third quarter.

   The Owls have also been inconsistent with this being the first time in 2022 they have won two games in a row. They improved to 4-4.

   After a long homestand, the KSU finally heads back on the road for a non-conference game at No. 18 Tennessee Martin at Hardy M. Graham Stadium in Martin, Tennessee, just
   It will be the first ever meeting between the two teams. Kickoff is 1:00 p.m.