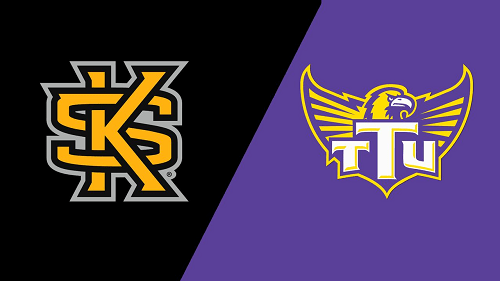 For the second time this season, Kennesaw State pulled out a victory that required more than regulation time.
   The game against Tennessee Tech looked all but lost on more than one occasion. But there were other times when a win looked likely.
  Kennesaw State jumped out to an early 14-0 lead on a 10 yard rushing touchdown by Preston Daniels and a 9 yard rushing score by Issac Foster with 8:31 to go in the second quarter.
   Then, the Golden Eagles took control and outscored the Owls 20-3 by the time there was 5:40 left in the third quarter.
   A fumble by quarterback Xavier Shepherd at the KSU34 led to a 46 yard field goal to give the Golden Eagles their first lead of the game at 20-17.
  Apart from a Connor Cummins 24 yard field goal near the end of the first half, the Owl offense had been held completely in check.
   TTU was driving again on the way to what looked like a 10 point lead when Markeith Montgomery intercepted a Quavel Thornton pass at the KSU19. An unnecessary roughness call moved it out to the 34 giving the Owls new life.
   A big 46 yard run by Daniels got it into the red zone at the 20. But Cummins missed a 40 yard field goal that would have tied the game.
   Things looked bleak, especially when Gabriel Benyard took the punt at the 5 yard line. But, KSU engineered a 95 yard scoring drive capped by a 20 yard Foster TD catch to put the Owls up 24-20 with just over a minute left.
   TTU quickly responded with a 75 yard drive of their own going back on top 27-24 with an 18 yard Willie Miller TD catch.
  The Owls had just 27 seconds left to avoid a second loss in a row. But a pair of quick 26 yard catches by Foster and Hill got them to the 23 with six seconds to go…just enough time for Cummings to redeem himself and tie the game at 27 from 40 yards as time ran out in regulation.
   In overtime, the Eagles got the ball first at the KSU25. The defense held with Tennessee Tech having to settle for a 46 yard Hayden Olsen field goal putting them up 30-27. The Owls could win it with a TD…or, at the very least send it into a second OT with a field goal.
   The offense picked up where they left off moving the ball with runs by Daniels and Shepherd to give them a first down at the 17. Shepherd got 11 more then took it across the goal line to give his team an unexpected 33-30 OT win.
   A perfect gift for the large Homecoming crowd.
   The Owls keep their 3-4 record at home for a visit next Saturday by old Big South rival Charleston Southern. Kickoff is 1:00.